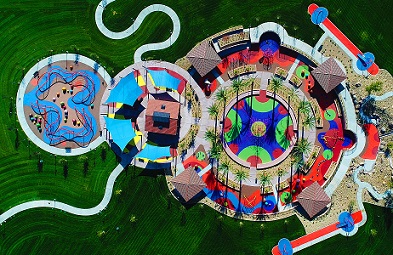 Summerlin, the award winning master-planned community is home to the adventure play-themed Fox Hill Park that opened in December 2017. The park is incredible – perfect for keeping your kids active with many great features that they will want play on (and you will want to join in the fun).  They might even forget about video games.
The large park sits on 18-acres in the Paseos Village next to Vassiliadis Elementary School, 215 Antelope Ridge Drive. The following are some of the features: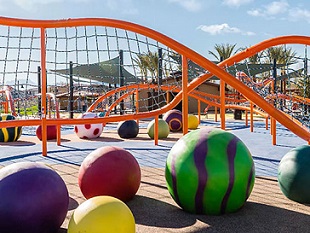 13 acres of park and grass fields for free play
3 slides with soft landings
2 "live wire" zip lines for kids 8 years and up
30 foot climbing tower called The Orange Beast
Frisbee Golf Course
 20 play structures
Custom swings
Clean bathrooms
Several Gazebos *No bbq pits or electrical outlets in any of the gazebos
Fox Hill Park is colorful, vibrant and is designed to keep kids moving and thinking, with the structures fueling their imagination.  Plus the park looks and feels a bit like Disneyland, only better because it's located here. "Fox Hill Park encourages physical activity which is good for both mind and body.  Kids today need more spaces and places to run, jump, climb, roll, skip and imagine, and Fox Hill Park is just the ticket.  Its super-charged fun packaged into a wonderful outdoor park that will be enjoyed equally by kids and adults" stated Julie Cleaver vice president of planning and design for Summerlin.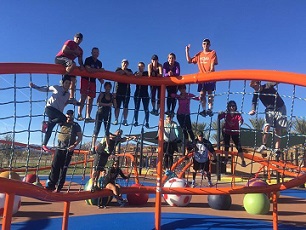 The park's design incorporates the area's elevated and sloping topography with planted turf on a select hillside that screams, 'hey kids, roll down me!' Fox Hill Park is the perfect amenity for the village's many families who call it home as well as the rest of the families in the Summerlin area.
Summerlin offers over 250 parks of all sizes that contribute to its hallmark outdoor lifestyle.  All equipment at Fox Hill Park was carefully selected and placed and has been certified by ASTM, a global organization that establishes standards of performance in a variety of disciplines, industries and products, including playground equipment.   According to Cleaver, ensuring the safety and quality of the park's many structures was paramount.  "While fun was our goal with Fox Hill Park, safety is always the top priority."
Are you ready to buy or sell a home? Do you have a need for commercial / industrial / retail space? We can help you with that… just call us at 702 SELL NOW or click on this link to my website http://www.702SellNow.com
Choose to have an amazing day….Jeff