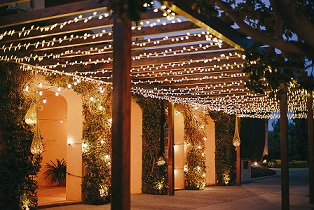 String Lights are a wonderful way to make your backyard look festive and give people the feeling of "this is a happy place". This type of outdoor lighting has become a hot trend for the last couple of years.
You can use them to highlight seating areas, decorate gazebos, decks and patios. String lights give your yard a more casual look than other types of outdoor lighting.
To start- make sure the lights are commercial grade outdoor lights and come with cords that are in the 14-18 gauge range. The all weather products are certainly worth the extra investment.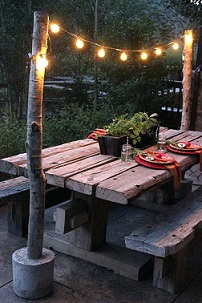 If you are going to install the lighting as a DIY project, make sure you have a unified spacing between each light bulb. Also before purchasing measure the space carefully so you have enough string lights to cover the area you want to illuminate. Buy extra light bulbs to keep on hand so you can replace bulbs that burn out. It is suggested that you use bulbs with a Kelvin range between 2,700 and 3,000 for a nice warm glow that is inviting however not too bright.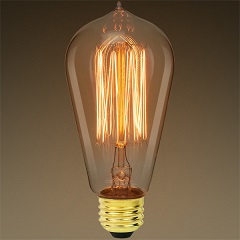 The experts advise to pay attention to the style of bulbs you use. Avoid the small bulbs – you don't want them to look like Christmas tree lights. When looking at bulbs check out the "Edison" style of string light bulbs. They are classic looking and works well with either classic or modern home designs. It is also advised to install a light switch near the door that opens to the backyard – it might cost a little more but it is better than plugging in and unplugging them all the time. You can also use commercial grade wireless switches.
Before putting up string lights check with your HOA to see if this type of lighting is approved.
Are you ready to buy or sell a home? Do you have a need for commercial / industrial / retail space? We can help you with that… just call us at 702 SELL NOW or click on this link to my website http://www.702SellNow.com
Choose to have an amazing day…..Jeff