Before October 2017 the hockey world was waiting to see the new expansion team The Las Vegas Golden Knights.  It's now six months later and Las Vegas is rejoicing – not only is the team on the road to the Stanley Cup in its first year (a first in hockey) – the team has won the hearts of fans all over the Las Vegas Valley.
The members of the Golden Knights give back to the community with charitable works and special appearances at all sorts of events. Through the Golden Knights Foundation, the team, coaches and staff support Las Vegas non-profits that make a difference every day. These funds come from corporate sponsorships, ticket sales, signature events, in-game programs, and merchandise sales. The Las Vegas Golden Knights are the first professional major league sports team in our city and they embrace their duty to strengthen and inspire our community – and have succeeded – the residents of Las Vegas LOVE "their Knights".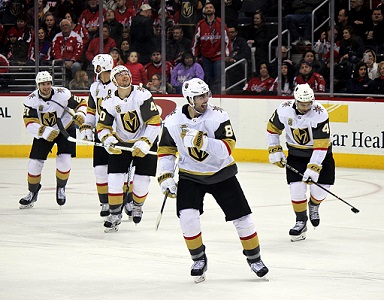 The fans can watch the Golden Knights practice at the City National Arena in Summerlin. The Knights have "ice time" practice most days from 11 a.m. to 2p.m. and it's free and open to the public.  For more information contact City National Arena guest services.
The fans at the practices are so pumped up they fuel the team and the team is so in touch with the fans  – all that energy ends up with winning games for the fans and team alike.  This year has truly been remarkable and it's not over yet. I am so smitten – I just got season tickets for next season! See you at the game!
Second round of playoff games started this week – so channel your energy to the team and we will see how far the Golden Knights go – can you say "Stanley Cup"?
Click on this link to my website http://www.702SellNow.com
Choose to have an amazing day…..Jeff