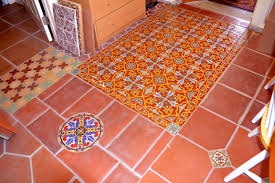 Deep pile carpeting can look wonderful in your home, however if you have a few kids plus their friends and your friends coming in and out on a regular basis carpeting may not be the best flooring choice. Not only will you have to work harder to keep it clean, but you'll also have to replace it sooner than you'd like because all those feet and shoes will leave their mark over time.
If you want nice-looking floors without worrying about a personal parade wearing them down before their time, you want to find a flooring option that's better suited for high-traffic areas.  The following are some great ideas: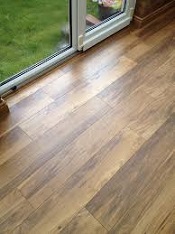 Laminate Flooring –This is an increasingly popular option in homes, laminate flooring uses laminated wood slats with images applied to them to create the look of a premium flooring option without the premium price. Laminate is available in a wide range of sizes and types; choose thicker 12mm or 15mm laminates to help ensure that they won't wear down due to excessive foot traffic. If you want something a bit different than standard laminates, some companies are also now making vinyl flooring (called vinyl plank) that functions similarly to laminate floors but with the water resistance and other benefits of using vinyl making it a better choice than laminate in "wet" areas such as kitchens and bathrooms. If you choose this option, make sure your installer removes the existing baseboards, instead of extending them using something like 1/4-round wood pieces. It's slightly more expensive to install it correctly, however, the completed project looks so much better.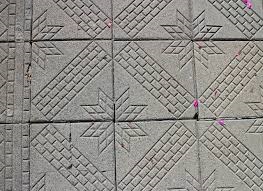 Natural Stone –If you really want something that can stand up against some foot traffic, consider going with natural stone. These stone tiles add a touch of beauty and class while giving you the wear protection that only stone can provide. Depending on the option you choose, this may run a bit more expensive than other options, but there is very little out there that can match the look of stone in the end.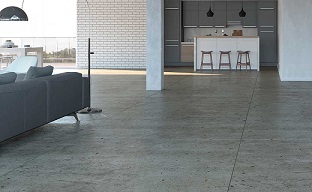 Concrete Flooring – This may sound unappealing to you at first think, however there's a lot that can be done with concrete flooring. You can add color, stains, etchings, stamps and even embedded features such as stones or tiles to really bring the floor to life. Best of all, you already know that concrete can stand up to a lot of traffic and use without showing any wear, so you won't have to worry about your floors showing their age for a very long time.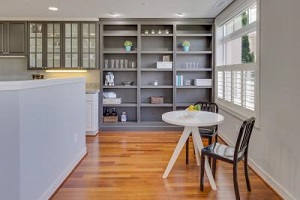 Hardwood – Another option, which can be a bit pricey depending on the wood you go with, is engineered hardwood (natural hardwood does not last long in the dry Nevada desert, so engineered is a much better choice). There is very little that can beat a hardwood floor when it comes to beauty and wear resistance. You have several woods to choose from, each giving the floor its own touch of color and personality. The maintenance of hardwood is a little higher than some other options if you want to keep it looking its best, but the little bit of extra time you spend keeping up your floor is more than worth it.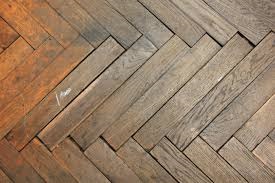 Ceramic Tile Flooring – There are a lot of benefits to using ceramic tile in your high-traffic areas. Tile is versatile, comes in a wide range of colors and styles, creates a classic look, and is relatively easy to repair and replace if individual tiles get broken.  Modern ceramic tile brings a whole new dimension to this option, and has become very popular. Just wait to see what has been done with ceramic tile.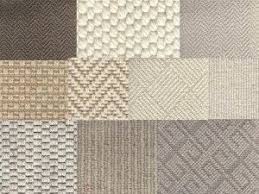 Traffic-Resistant Carpet – Yes, carpet isn't always the best flooring option for high-traffic areas. That doesn't mean that there aren't carpeting options available for rooms that see a lot of use, however. Not only are there low-pile carpets and other options designed with higher-traffic use in mind, but you can also get carpet tiles and other carpet options that are both easy to maintain and easy to repair if parts of them start showing a bit too much wear.
If you opt to go with stone, concrete or wood surfaces you might want to use area rugs on top of them in lower trafficked areas in your home in order to "soften" the room.
Obviously, there are a few options available to keep your floors looking nice despite the amount of traffic they see. If you would like an expert's opinion, I have a list of quality interior designers that can help you out to decide what type of flooring suits your home and your needs.  Just contact me and I'm glad to help.
Do you have a need for commercial / industrial / retail buildings or land? Are you ready to buy or sell a home? Do you want 3 cash offers? We can help you with all of that… just call us at 702 SELL NOW or click on this link to my website http://www.702SellNow.com
Choose to have an amazing day….Jeff