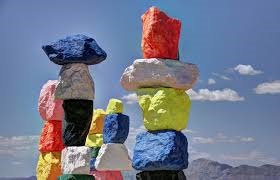 If you drive around 10 miles south of Las Vegas on Interstate 15 you will find Seven Magic Mountains.  They are located near Jean Dry Lake just off the highway.  I highly recommend you take a short drive to see this fun and inspirational art show of color in the desert.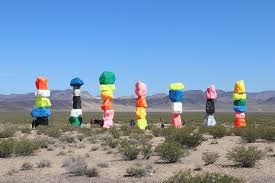 These colorful boulders stand over 30 feet high and the brain child of Ugo Rondinone, an internationally celebrated Swiss artist.  Seven Mountains is a large-scale, site-specific public art installation and is adjacent to the Sheep Mountains and the McCullough, Bird Spring and Goodsprings ranges. A creative expression of human presence in the desert, The Seven Magic Mountains jolts the Mojave with a burst of form and color with dayglow totems comprised of painted, locally-sourced boulders. The cost of this project was $3.5 million, but not in tax dollars. The Nevada Commission on Tourism kicked in $100,000; however the big money came from private donors, with Aria resort being the largest.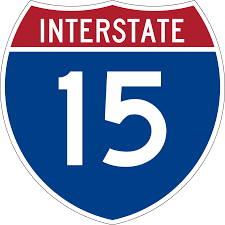 The exhibition opened May 11, 2016, and was originally scheduled to be on view for two years – however due to the incredible success of Seven Magic Mountains since its opening,  the artist Ugo Rondinone has shown a strong desire to keep the artwork on view at its current site. The producers- Art Production Fund, New York and Nevada Museum of Art in Reno continue to work on an extension plan that would enable Seven Magic Mountains to remain on view for several years to come. At the end of 2018, the Bureau of Land Management (BLM) issued a three-year permit extension for the artwork, allowing the installation to remain on view through the end of 2021.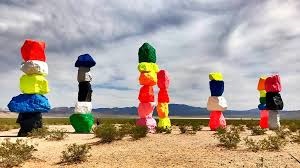 Visible across the desert landscape along Interstate 15, Seven Magic Mountains offers a creative critique of the destinations like Las Vegas. According to Rondinone, the location is physically and symbolically mid-way between the natural and the artificial: the natural is expressed by the mountain ranges, desert, and Jean Dry Lake backdrop, and the artificial is expressed by the highway and the constant flow of traffic between Los Angeles and Las Vegas.
Are you ready to buy or sell a home? Do you have a need for commercial / industrial / retail space? We can help you with that… just call us at 702 SELL NOW or click on this link to my website http://www.702SellNow.com
Choose to have an amazing day….Jeff