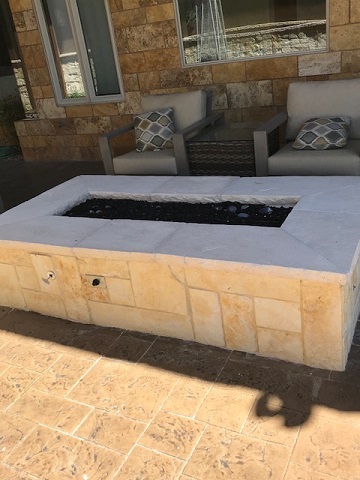 About month ago I bought a fire pit for my backyard and my family and I love it!  It's a great place for the family gather or to entertain friends.  There are so many options from a fairly inexpensive DIY to a full on work of art.
If you have limited amount of space in your backyard you might want to look into a fire pit/table combo, like we did. This two-for-one arrangement allows you to use your table for eating and you can cover up the fire pit when it's not in use. Then when you are ready for a cozy fire to sit around you automatically have a designated area. We also were not in love with the not so decorative rocks that came standard in the kit, so we are going to buy some of that cool glass that you find in some fire pits.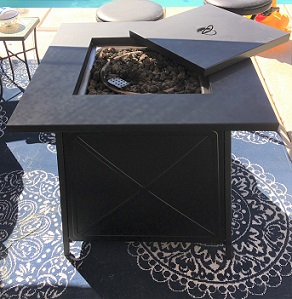 Another option that is budget friendly that will create a fun and intimate area in your backyard is the portable fire pit.  Just find the right spot and space the chairs around your fire pit in a circle to create a nice conversation space.
If you're thinking of starting a large-scale backyard renovation, and you're lucky enough to have a pool, consider adding a fire pit to the pool area and while you are renovating you can easily add elements such as gas to your fire pit. This solution works really well in Las Vegas where hanging out by the pool is an almost a year-round option.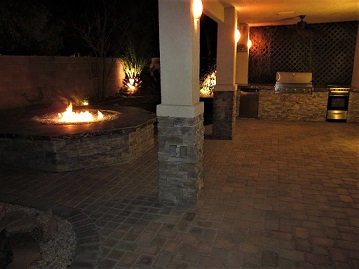 The in-ground fire pit is also a great option although it will require a bit of renovation. Figure out where you want it placed, digging it out and replacing the stones or patio tiles once the fire pit is in and cover the spot when not in use. You night need a permit from the city for this option so make sure you check into that.
A concrete fire pit along with a bench is ideal for a more modern home. This kind of space can be customized to work in small or large backyard and can be hooked into already existing gas lines.
Do you already have a spot in your yard with built-in seating or benches?  Consider adding a fire pit as the perfect outdoor centerpiece.
Whatever type of fire pit you choose I'm sure you will enjoy it and wonder "Why didn't I do this years ago."
One word of caution – – – it's fire, so please be smart about it. Make sure you choose a smart location in relation to buildings and overhangs, and don't leave it unattended. If you are going to use wood instead of gas, make sure you can touch the coals with your bare hands before you go to bed. I'd hate to read about your firepit as a news story instead of a blog post!
Are you ready to buy or sell a home? Do you have a need for commercial / industrial / retail space?  We can help you with that… just call us at 702 SELL NOW or click on this link to my website http://www.702SellNow.com
Choose to have an amazing day…..Jeff